| | | |
| --- | --- | --- |
| National Award Ceremony held by the Committee on Public Accounts of the Parliament to recognize the state institutions with His Excellency the President as the Chief Guest-2018 | Date : | 05-09-2018 |
| | | |
The Public Accounts Committee having gone beyond the traditional method of investigating the Auditor General's reports presented to the Parliament by conducting audit investigations, obtained and evaluated the current information on compliances with financial rules and regulations and performance of all the state institutions coming under the purview of the Committee by a web based program. Subsequently, the Committee decided to hold a national award ceremony for the second consecutive time to recognize the institutions that have achieved a high level of performance according to the data analysed and investigated by the Auditor General's Department.
The Committee on Public Accounts having evaluated the data relating to the Financial Year 2016 obtained from 837 institutions Island wide including the Ministries, Departments, Special and Spending Units of the Government, Provincial Councils, District Secretariats and Local Government Authorities made arrangements to present awards to 101 institutions that have achieved a high level of performance, selected from each category. This award ceremony was held on 05 September 2018 at 10.00 a.m in the Committee Room No 01 of the Parliament and His Excellency President was the Chief Guest. Hon. Prime Minister and Hon. Speaker were Guests of Honour.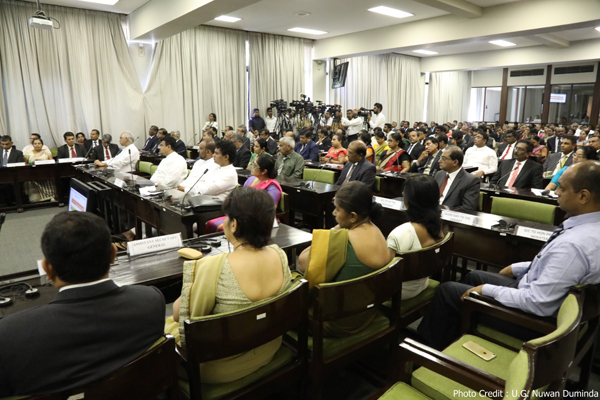 Quick Navigation
Parliament Calendar
Mailing List Subscription