| | | |
| --- | --- | --- |
| Vote of No Confidence on the Prime Minister is Negatived | Date : | 04-04-2018 |
| | | |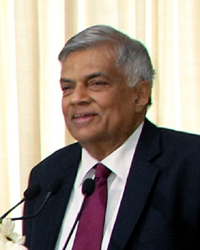 The Vote of No Confidence on the Prime Minister and the Minister of National Policies and Economic Affairs, Hon. Ranil Wickremesinghe was negatived by the House after having taken a division by name. In the division taken at 9.30 p.m., 76 votes were cast in favour of the Motion, while 122 votes were cast against it.
The "No-confidence Motion" signed by 55 UPFA Members of Parliament, was handed over to the Hon. Speaker on the 21st of March 2018 and subsequently included in the Addendum to the Order Book No. 8(7) issued on 26.03.2018. Most of the points mentioned in the motion, associates with the Bond issue which occurred at the Central Bank of Sri Lanka.
This was the third occasion in the history of Parliament of Sri Lanka where a Vote of No Confidence against a Prime Minister was debated; the previous instances were in 1957 and 1975.
Quick Navigation
Parliament Calendar
Mailing List Subscription