| | | |
| --- | --- | --- |
| The Concept Paper for the development of J. R. Jayewardene Institute for Parliamentary Research and Training was presented | Date : | 11-04-2017 |
| | | |
The Friedrich Naumann Foundation (FNF) who is currently working with the Parliament of Sri Lanka as a donor agency in the development of J.R. Jayewardene Centre as the J.R. Jayewardene Institute for Parliamentary Research and Training presented the Concept paper, Draft Bill and Architectural Concepts of the proposed Institute to the Hon. Prime Minister and Hon. Speaker on 23rd March 2017.
At the request of Hon. Karu Jayasuriya, Speaker the FNF agreed to facilitate the project and further to the Memorandum of Cooperation (MoC) signed between the Office of the Secretary General of Parliament and the FNF in 2016, a MoC for the year 2017 was signed on 14th March 2017.
The Primary objective of this project is to provide the necessary information needs and research material to Members of Parliament, Members of Provincial Councils and other Political Representatives including Members of local government Institutions. The Institution will also conduct several academic courses relevant to Parliamentarians leading to academic qualifications from affiliated universities.
Prof. Jayadeva Uyangoda, former Senior Professor in Political Science, University of Colombo and Mr. N. Selvakkumaran, Senior Lecturer, Faculty of Law, University of Colombo developed the concept paper and the draft Bill of the Institute in consultation with the Parliament Secretariat. A team of architects from MICDA Associates led by Senior Architect Mr. Murad Ismail prepared the initial concept, design and the plans for the Institute's buildings and infrastructure facilities.
Mr. Neil Iddawala, Chief of Staff and the Deputy Secretary General of Parliament, Mr. Jagath Gajaweera Arachchige, Director Legislative Services, Mrs. Sagarica Delgoda, Country Representative of FNF, Mr. Vidya Abhayagunawardena, Programme Executive of FNF, Mr. N. Selvakkumaran and Mr. Murad Ismail were present at this event.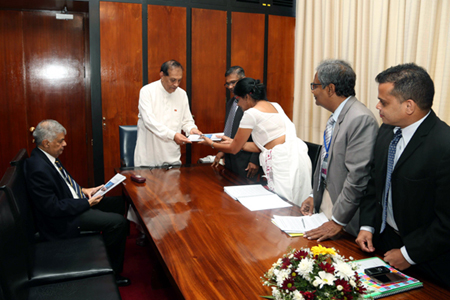 Quick Navigation
Parliament Calendar
Mailing List Subscription