Hon. Palany Thigambaram, M.P.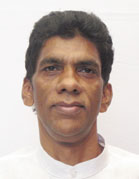 Party
United National Party (UNP)
Portfolio

Minister of Hill Country New Villages, Infrastructure and Community Development
Electoral District / National List

Nuwara - Eliya
Date of Birth

: 10-01-1967
Civil Status

: Married
Religion

: Hindu
Profession / Occupation

: Businessman
Contact Details
On Non-Sitting Days
0712151734
Ministry of Hill Country New Villages, Infrastruct
No. 45, St. Michels Road,
Colombo 03.

On Sitting Days
0112581185
Political Career
Provincial Council member of Central Province since 2004 to- date.
Committees Involved
Committees Served
House Committee

(Eighth Parliament of the D.S.R. of Sri Lanka)
Quick Navigation
Parliament Calendar
Mailing List Subscription