Hon. (Mrs.) Thalatha Atukorale, M.P.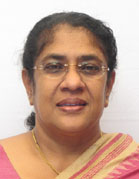 Party
United National Party (UNP)
Portfolio

Minister of Foreign Employment and Minister of Justice
Electoral District / National List

Ratnapura
Date of Birth

: 30-05-1963
Civil Status

: Married
Religion

: Buddhism
Profession / Occupation

: Attorney-at-Law
Contact Details
On Non-Sitting Days
0452274287
Panawenna Watta,
Kahawatta.

On Sitting Days
0112820074
231/1,Stanly Thilakeratne Mawatha,
Nugegoda.
Quick Navigation
Parliament Calendar
Mailing List Subscription