| | | |
| --- | --- | --- |
| Committee on Public Petitions – Press Briefing | Date : | 03-12-2016 |
| | | |
The Committee on Public Petitions had taken necessary steps to hold its first ever press conference to brief the media personnel on the Committee on Public Petitions (COPP) Report which was tabled in the Parliament by the Hon. Sujeewa Senasinghe, the Chairman of the Committee on Public Petitions on 29.11.2016. The media briefing was held in the Committee Room No. 02 in the Parliamentary Complex at 11.00 a.m. on 30.11.2016.
Addressing the briefing, the Chairman and the committee members detailed that 115 petitioners were relieved for the period covered by the COPP Report presented and also stated the types of redresses given to the petitioners by the Committee such as re-employment, placing on due post and granting with salary increments, and benefit of pension, etc.
Further, the Chairman extended his gratitude to the honorable Speaker of the Parliament for his leadership and for his continuous guidance, and commended the honorable members who actively participated for the committee meetings. Finally the chairman extended his appreciations for the Secretary to the Committee and her staff members for their fullest and utmost co-operation given to the Committee members.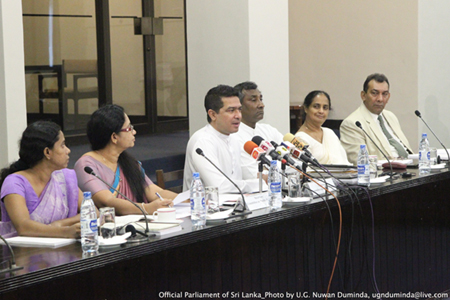 Quick Navigation
Parliament Calendar
Mailing List Subscription